조선아
Illustrator, South Korea
Jo: Jo-Wha (조화). Harmony. I think maintaining balance and harmony is very important in my life. Harmony among people, harmony with animals and human beings, furthermore, harmony within me and myself – and that is the process of my artwork.
I believe that my artwork is the process of making harmony out of my "present" moments.
For example, my first book <Salut Maman> was a result of my journey to make harmony when I had to say goodbye to my mom. I was able to make that book by embracing the fact that I need to let my mom go and try to find harmony in it.
Sun: Sun-myung-ham (선명함). Clearness. The more I draw, the more I learn about myself. I think art-making is a process of self-awareness. (When I was young) I thought I knew about myself very well! After 30….I'm not sure even what I like or what I'm best at.
These days, I'm learning about myself through my artwork.
A: A-ee-runny (아이러니). Irony. This word is actually opposite from the harmony I mentioned before.
Sometimes I get insight from ironies, absurd things, or conflicting concepts. You can tell a farewell story to talk about love, or draw something tiny and helpless to address something big and brave.
I can see these ironies in my works. When contradictory things come together, they can highlight each other more vividly.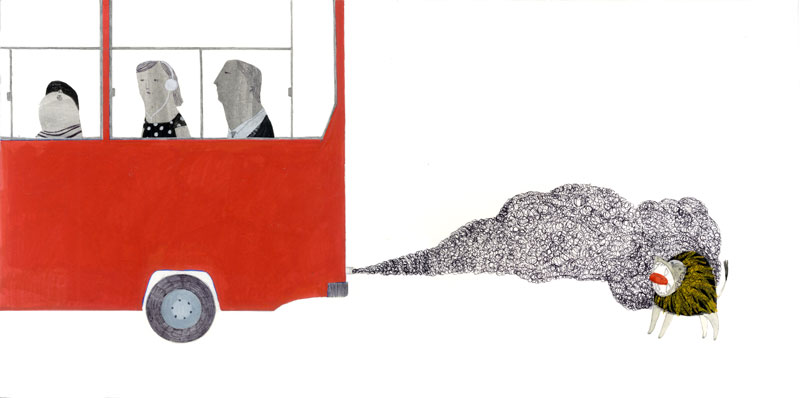 I'm working on is a picture book titled <Night walks>. This is a book about people working at night, but the main character is a cat. He snuck out at night to take a walk and enjoyed various scenes of night with people.
If this happens to me, I would consider myself famous enough..
When I finally publish 5 picture books.
When I can live on the royalties from my picture books (!) What a success I'll enjoy then as an illustrator!
And when kids bring me my books and ask for my autograph.